Solutions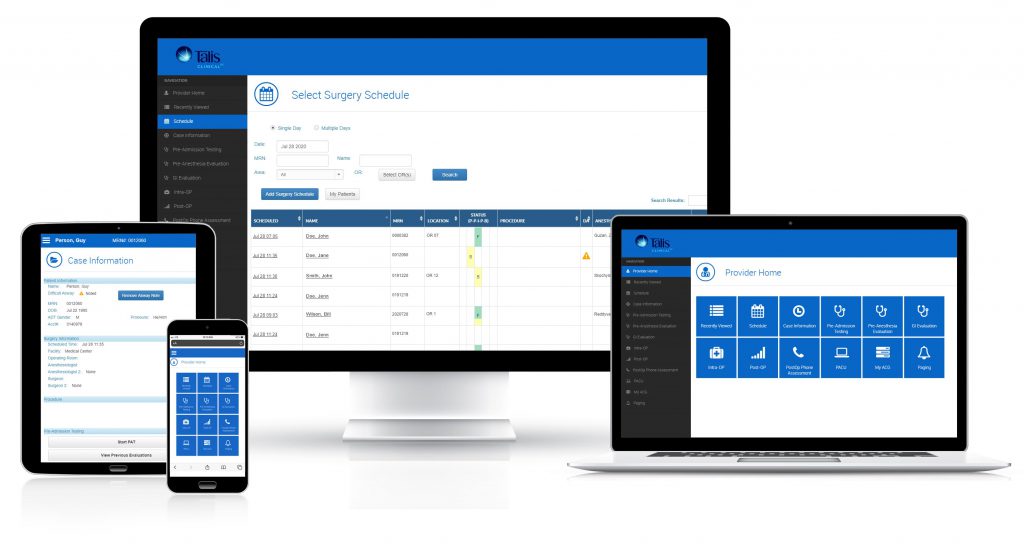 Advanced Clinical Guidances (ACG™) separate Talis Clinical from other HIT applications and companies. Our focus is on providing tools to support and enhance high acuity care workflows in Anesthesia, Cardiac Surgery-Perfusion, ECMO, Labor & Delivery and Critical Care according to medical facility defined patient care protocols.
Talis configures Advanced Clinical Guidances (ACG) through four foundational principles, these are apparent in every application we develop and are managed in real-time.
Connect to point of care medical devices – Our proprietary Talis-Hub collects data from hundreds of medical devices (patient monitors, ventilators, infusion pumps, CRRT's, anesthesia machines, etc.) including both waveforms and discrete data as fast as a device is able to output.
Integrate with available Hospital IT systems – We securely integrate with HIT systems (ADT, EHR, eMAR, Lab, etc.) using existing interfaces. This minimizes hospital IT effort to support implementation.
Contextualize all available relevant data – We push all data through our Advanced Clinical Guidance Engine (ACG-Engine™) to run medical facility defined patient care protocols in real time.
Deliver recommendations – We inform the right clinicians at the right time as defined by medical facility patient care protocols.